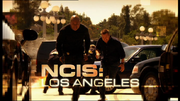 Season Three of NCIS: Los Angeles premiered in the United States on September 20, 2011, in the 9:00-10:00 PM Eastern Standard Time slot on Tuesday evenings immediately following NCIS. The season concluded on May 15, 2012.
On February 1, 2011 CBS Entertainment renewed NCIS: Los Angeles for a third season. Subsequently on March 31, 2011 CBS Entertainment announced that the third season would consist of twenty-four episodes.
On April 28, 2011 Donald P. Bellisario and Belisarius Productions initiated a lawsuit against CBS Broadcasting Incorporated and its subsidiary CBS Entertainment, alleging that the development and production of NCIS: Los Angeles constituted a breach of several preexisting contracts and an infringement of Bellisario's rights as the creator of NCIS (series) and as the co-creator of JAG (series). It is unknown what effect, if any, the lawsuit had on this season.
This episode also features three episodes that crossover with Hawaii Five-0.
Cast
Series Regulars
Recurring Characters
Special Guest Cast
Cast Notes
Episodes
Episode Number
Title
Airdate
Notes
Series
Season
49
1
Lange, H.
20 Sept. 2011
Season Premiere.
50
2
Cyber Threat
27 Sept. 2011
Joint OSP and NSA Investigation
51
3
Backstopped
4 Oct. 2011
The teams are rotated by Operations Manager Hunter during an investigation
52
4
Deadline
11 Oct. 2011
The case revolves around the Libyan situation and the Arab Spring.
53
5
Sacrifice
18 Oct. 2011
Sam's prized possession is stolen during an investigation
53.5
Crossover Episode
Ka Hakaka Maika'i (Hawaii Five-0)
October 24th 2011.
Kensi travels to Hawaii to assist Steve McGarrett in his fight against the infamous gangster, Wo Fat. This is a crossover episode between NCIS: Los Angeles Season 3 and Hawaii Five-0 Season 2.
54
6
Lone Wolf
25 Oct. 2011
The case centers on an independent intelligence gathering operation headed by an old friend of Hetty's
55
7
Honor
1 Nov. 2011
OSP investigates what at first blush appears to be the murder of a Japanese tourist by a dishonorably discharged Marine who was severed from the Marines.
56
8
Greed
8 Nov. 2011
The Mexican Government requests the aid of NCIS in an investigation into cross border smuggling.
57
9
Betrayal
15 Nov. 2011  
During a joint CIA/NCIS operation in Sudan Agent Hanna's life is put in grave danger.
58
10
The Debt
22 Nov. 2011
Hetty and Deeks orchestrate Deeks's firing as part of elaborate operation to expose a corrupt police officer with connections to a white supremacist
59
11
Higher Power
13 Dec. 2011
OSP hunts for a weapon capable of producing an electromagnetic pulse.
60
12
The Watchers
3 Jan. 2012
Nell goes undercover to discover the reasons behind the death of a Department of Defense researcher. Introduces NCIS Assistant Director, Owen Granger portrayed by Miguel Ferrer.
61
13
Exit Strategy
10 Jan. 2012
Jada Khaled crosses paths with Sam again after an assassination attempt.
62
14
Partners
7 Feb. 2012
Callen and Sam celebrate five years of partnership.
63
15
Crimeleon
14 Feb. 2012
OSP tracks the mastermind of a criminal syndicate.
64
16
Blye, K.
21 Feb 2012
Agent Blye becomes the chief suspect in a murder investigation.
65
17
Blye, K., Part 2
28 Feb. 2012
The truth about the circumstances surrounding the death of Donald Blye, Kensi's father is finally revealed.
66
18
The Dragon and The Fairy
20 Mar. 2012
The team investigates a case with its origins in the Vietnam War era.
67
19
Vengeance
27 Mar. 2012
The OSP investigates a Navy SEAL team.
68
20
Patriot Acts
10 Apr. 2012
A former Marine is suspected of domestic terrorism.
68.5
Crossover Episode
Pa Make Loa (Hawaii Five-0)
April 30th 2012.
After a murder victim is discovered to have been infected with smallpox, temporary leader of the H50, Detective Sergeant Danny Williams of the Hawaii Five-0 Task Force contacts Sam and Callen for help after learning that a suspect that the NCIS: Office of Special Projects are interested is in Hawaii.
69
21
Touch of Death
May 1st 2012.
With the prime suspect in the smallpox case having fled to Los Angeles, Detectives Danny Williams and Chin Ho Kelly of the Hawaii Five-0 travel back to LA with Sam and Callen as both NCIS and H50 battle to stop a possible biological attack from becoming a terrifying reality.
70
22
Neighborhood Watch
8 May 2012
Agent Blye and Detective Deeks go undercover to root out a Russian sleeper cell operating in Los Angeles
71
23
Sans Voir, Part 1
15 May 2012
Part One of the Season Three finale.
72
24
Sans Voir, Part 2
15 May 2012
Second and final part of the Season Three finale.