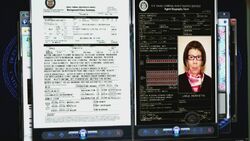 Drives a Jaguar which Nate Getz once backed into by mistake.
Is a close friend of Leon Vance.
Likes tea.
Was once involved in a bar fight along with Callen.
Her most prized possesion was a 1955 Porsche Spyder, which was crashed on a highway in Monte Carlo.
Has a whole warehouse in Santa Monica for her antique jewelry.
Always calls her subordinate NCIS Agents formally using their surname.
She is Marty Deeks' next of kin.
Is known to not get along well with most intelligence analysts.
Re-gifter.
Speaks Russian, German, Mandarin, Spanish, Czech, Romanian, Hebrew, Arabic, Magyar and Pashtun.
Versed in martial arts such as Hapkido, Wushu, and Eskrima.
She is a published author, pilot and skilled X-box player.
She has received many awards including a Bronze medal small-bore rifle event (1964 Summer Olympics), the Defense Intelligence Agency Award of Merit, and CIA Intelligence Star.
Known places of residences include 1237 Hill Crest Drive, LA plus at least two more.
Notable possessions include a collection of Victrolas and ancient weapons in her Hill Crest Drive residences. She also has multiple high-end cars including a Jaguar at the Hill Crest Drive residence.
Her social security number is 870-00-1435
Owns a French maid outfit
Is allergic to feathers (LD50)
She ruled Nicaragua for 72 hours once.