Past Lives is the twelfth episode of NCIS: Los Angeles.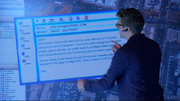 A sailor is executed in broad daylight, prompting the OSP team to investigate while Callen goes undercover as one of his old aliases is brought to life and during the investigation, he uncovers a shocking secret from his past while Kensi goes up against an imprisoned gangster who may have information concerning the killer.
Major Events
Edit
Kensi reveals that she hates Disneyland because she has issues with grown men in furry costumes.
Charlie O'Donnell who plays Michael Donnelly is the real-life son of Chris O'Donnell who plays G. Callen on the show.
Neil Corby's address is listed as "Waterford Street". In real life, Waterford is a county in the southern region of the Republic of Ireland and it is also the oldest city in Ireland as well.
Episode Name Origin
Edit
The name "Past Lives" is a reference to the different undercover lives all the agents have lead in the past.
Series Regulars
Edit
Recurring Guests
Edit
Other Cast
Edit